Ela Rezmer, Founder, - "Inspirational Visionary of the Heart" (Director)

The vision of Teen Journey came to Ela Rezmer in a remarkable and unexpected call from her heart to create a community where teens could fully explore and discover themselves, their talents and their value.
The necessity of continuing Teen Journey was reinforced by the shocking loss of one of her son's closest friends, a brilliant student and talented young man who committed suicide at age 17. No one realized the depth of his confusion and isolation. More than ever, Ela was determined to continue creating a program to support young people from all walks of life.

Ela began gathering people who are passionately committed to themselves and their inner journey; people who also have the desire to share their gifts and wisdom with teens. These mentors help and guide young people through their own personal journey of self discovery. Without hesitation these leaders came to Teen Journey giving their time, their stories, and their inspiration, consisting of elders from First Nations around Vancouver as well as elders from Africa and Peru - people committed to bridging tribal wisdom with modern culture.

Ela brings to Teen Journey leadership that is led from the heart with clarity and trust. Her passions stem from a multitude of projects always coming from a place of love. Her greatest desire is to invite everyone to create communities that expand consciousness through self inquiry. As a lifelong explorer of self-inquiry, Ela has studied with and been initiated by some of the world's most renowned, international spiritual leaders including: the Dalai Lama, Dr. Carlos de León, Dr. Vernon Woolf, Juan Ruiz Naupari, and Mantak Chia amongst others.
As someone who's been passionate about personal development and spiritual practices for many years, she has returned to simplicity by choosing to work with the power of breath. Trained by Dr. Judith Kravitz, Ela is a Transformational Breath® Facilitator www.BlissfulBreathing.com
Ela is also a practising Interior Designer with a Master's Degree from the Faculty of Architecture and Industrial Design who runs her own company, Ela Rezmer Design Studio. She was part of a design competition for the 2010 Olympic Winter Games by enlisting the help of her two teenage sons and co-created a bench called "Friends" that mimics two people with open arms.
As a founder of Teen Journey, she continues to create miracles by inviting people to co-create deeply connected conscious community. This vision has guided her to serve the spirits of Youth, Mentors, and Parents. Ela brings depth, expertise and a fountain of love to her work and life.

Come and join our journey!
David Hatfield

David Hatfield is a leadership consultant and facilitator specializing in rites of passage, conflict transformation, masculinity work and improvisational singing. He has designed and lead rites of passage work for youth and young adults in Canada, USA, Spain, New Zealand, and Australia for 13 years. He is currently completing his M.Ed. in Social Ecology and is researching the experiences of rite of passage program participants. www.davidhatfield.ca


Zamir Dhanji (Director)

Zamir Dhanj is an interdisciplinary performer devoted to bringing peace through the arts and culture. He performs as a musician, fire dancer, and storyteller, all things that he will share at the Teen Journey camp. His bio is a spoken word piece written for those little "about me" boxes that you have to fill in when you sign up for an account on a website. It represents him, how he sees the world, and how he wants to be himself with it. For Zamir, Teen Journey is about doing just that, finding your passions and learning how to express yourself through them. One of his passions is writing.
This is what he shares...

"With the comprehension of my weakness and vulnerability comes increasing wisdom and strength. I am on an adventurous path of learning to weave the sacred web that binds tradition to modernity, polarities at flux within me. I enjoy cloud-watching followed by ant-watching, majesty greeting me with equal grace; a crease on the palm of the Beloved. The innocent scent of children warms my heart, and gives me faith that the creative principle has hope for us yet.

Poetry is a loofah for my soul, once living pores swell under the waters of my yearning, washing my pettieness away. Chocolate is my narcissism manifest material, dark, brown, rich, available for instant gratification, wanton Gaia belied by a humble bean. Playing each note of life's journey a mythical quest- bequeathed to us by a power known as death - resides in the sinews of my spirit, seeking my sincere, solemn request. I relish the unknown because it makes knowing possible. If the spirit knows all then it knows the extent of my unknowing - all is well. I want a partner on the journey through soul, spirit and flesh. To reflect that boundless love existing in each of us, a warm, glowing seed which grows each time its shown itself. Freedom is a state of being often seeking residence in my consciousness. How to be?……free. Free?….how to be. My life was a story whispered into a seashell and held up to the ear of God, a story written on weathered parchments found in holy books, tattooed on the rough skins of indigenous tribes, carved bones stringing a shaman's necklace. What separates us is our ancestors, though in truth, they wrote our stories together, each living a chapter of the saga composed of stars. Breathing the same breath, soaking the same sun, you and I, are one."

Jonathan Bean (Director)

Jonathan has been a volunteer with Teen Journey since its inception several years ago, and is proud to be on the Board of Directors for the Teen Journey Society. In his professional life Jonathan works in the non-profit sector as an educator and corporate trainer, working with people from across the lower mainland to help them better their situation through affordable housing, connection to their community and community services, and enhancing their human dignity. Jonathan has taught at multiple Provincial Crown Corporations and is a presenter at the 2012 Canadian Society for Training and Development conference in Toronto, with a focus on teaching people to approach service to the public or to clients with dignity and respect.

When volunteering for Teen Journey, Jonathan draws on his years of experience in helping teens and young adults discover themselves, their purpose in life, and the deep truths that they can draw out of the life around them. Jonathan brings his experience with the Canadian Improv Games and improvisational theatre as well as his experience as a theatrical producer to the table, in addition to 4 years of experience volunteering with and leading in transformational youth camps and workshops with Youth on Purpose (an organization devoted to transformational work with teens), On Purpose (workshops for adults and families) and the Choose Again Society. Jonathan brings a balance of playfulness and discipline, and focuses on real-world applications of the inner, personal work that happens through Teen Journey.

"Experiences like Teen Journey are like getting a chance to take someone behind the curtain and introduce them to the Wizard of Oz. Once people get a taste of what it's like to be somewhere that the pressures of school and judgment of their peers are suspended for a while, the bar in the whole rest of their life is permanently raised."

Charles Cho (Director)

Charles Cho has been involved with Teen Journey since its inception and is continually drawn to the spirit of this program. Maintaining a space where teens can develop a deeper sense of who they are in a safe and encouraging environment is something he takes great pride in. TJ has been an exciting part of Charles' life, where learning and co-creating with an amazing team has been an enriching experience each and every outing. He invites you all to join him on this unique adventure of self discovery!
Catherine Tremblay (Director)
When Catherine was nine years old she thought she would become a missionary. When she was seventeen years old she thought she would become a diplomat. It has been a long and winding road since the initial manifestation of her desire to be of service.
In 1988, Catherine completed a bachelor of laws (LL.B) at Laval University in Quebec City and was admitted to the Quebec Bar in 1989. After a few years in private practice, she spent over fifteen years in the film and television industry as a legal counsel and negotiator. This culminated in her three-year employment with Cirque du Soleil as senior contract negotiator.
As a young woman Catherine undertook a personal journey of exploration and in 1993 this lead her to India where she was introduced to meditation. Her meeting with Eckhart Tolle in 1998 was also decisive in the further pursuit of her path of self-awareness. Over the following decade she did extensive personal work with the published author and spiritual teacher, Nirmala. In 2009 she discovered the work of the renowned author and teacher Byron Katie. This resulted in a powerful personal practice of thought inquiry that brought to a place of deeper inner peace. Catherine sensed that this practice, combined with her legal background, could have value in the larger community.
She finalized two certificates in conflict resolution, with a specialization in negotiation and mediation, at the Justice Institute of British Columbia. Her vision now is to help empower youth so they can become positive and inspiring leaders in their communities. As the mother of a fifteen-year old daughter, and the stepmother of two boys aged sixteen and twenty-two, she knows the challenges of contemporary youth. Catherine feels it is now time to extend her personal practice into the community with love and compassion.

Chris Fletcher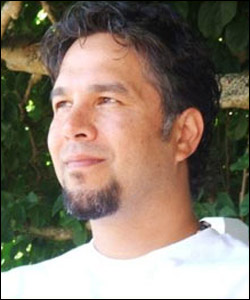 Chris and Jennifer Fletcher are the proud owners and operators of Halfmoon Haven (where the Parent Journey will take place). Their two sons, Braydon and Reese, are also important in making Halfmoon Haven what it is and they will be attending Teen Journey as well!

For over twenty years, Chris has worked as a youth counsellor for children at risk. Besides teaching life skills, employment counselling and conflict resolution for teens, Chris has worked extensively with those affected (directly & indirectly) by autism. He is expanding this work, and other information important to him (such as Shamanic Teachings) through various workshops, private family counseling and weekend men's retreats.
Pepe Danza

'Pepe' Danza is an electrifying percussionist and multi- instrumentalist. A native of Montevideo, Uruguay, he began classical guitar studies at age eight, and started his professional career at thirteen. He continued his studies in guitar as well as in piano, composition, music history and the physics of sound at the National Conservatory. All along he was naturally immersed in his native Candombe rhythms, the national groove of Uruguay and a fundamental element in the identity of all Uruguayans.

Pepe developed an early keen interest in world music and different expressions of spirituality which eventually led him to spend three years in Japan studying Shakuhachi and Buddhism , another two years in India and Sri Lanka for Indian music, Yoga and Tibetan Buddhism, Brazil for studies in Afro-Brazilian practices, Samba and Bossa Nova music, and shorter periods in Indonesia (studying gamelan), Korea and the Philippines. He also has lived several years in Europe and the USA, performing and recording Latin , Jazz and Contemporary music with a number of local ensembles, and studying systems such as Sufism and the Gurdjieff Work.

Moving to Canada in 1989 he specialized in the study of world percussion while quickly establishing himself as one of the foremost drummers and band leaders on the West Coast. His credits include performances with South Indian master drummer Trichy Shankaran, singers Ann Mortifee and Christine Ducan, the Vancouver Symphony Orchestra and Chamber Choir, and concert tours throughout Europe, Asia and New Zealand. In his extensive touring he has shared the stage with the likes of Ani DiFranco, Oscar Lopez, the Dalai Lama and David Lindley. Pepe is the leader of his own groups: Drum Prayers, a multi-cultural drumming ensemble, and the recently formed Roots/Blues group The Blues Poets. He also tours as a solo artist.

As a teacher Pepe has been working with Vancouver's School Board, teaching Samba music to children of all ages and workshops for music teachers. He is presently working with the youth Marimba group Kunaka. He also conducts group and private percussion lessons for adults at home, and travels across British Columbia giving two or three day intensive workshops.

He has received countless award nominations including Musician of the Year in 1999 (West Coast Music Awards), Juno for his work with Asza, Leo awards for his work in film music, and Jessie awards for his theater scores.
Tony Papa, Director of Film Program

Tony is an established producer, director, and editor has always placed creativity in the forefront of his life and his career. He spent 7 years in New York studying music, dance, acting, film production, and photography and combined his knowledge to create music videos. His talents soon caught the eye of Dire Straits front man Mark Knopfler, who hired Papa to direct the music video for their #1 hit 'Private Investigations'. Followed soon, thereafter, with another music video for Huey Lewis and the News (Heart of Rock and Roll).

Papa soon found himself in Los Angeles making short films. Refining his skills in Vancouver, he developed a form of storytelling he called the "Musimentary", which combines music video with documentary to tell a larger story. One Musimentary entitled "Beauty and the Beast: Ocean Falls", garnered a Much Music Video award in 1995.

Papa furthered his experimentation in a long form experiential film entitled, "Traveler", scored by world renowned flutist, Paul Horn which premiered on Bravo and won "Best Cinematography" at the Toronto Short Film Festival. In 1996 Tony Papa formed Avanti Pictures and soon won the Best Artistic Film at the Hot Docs festival (1997) for performance documentary "True Prince: Vladimir Malakhov".

Some recent projects include Opre Roma: "Arise Gypsies", shown at Montreal and Vancouver Film Festivals, "Ice Time For Old Guys" and the critically acclaimed dance drama, "ICE: beyond cool", a stunning visual and musical explosion, utilizing innovative techniques and going straight to the heart of contemporary youth issues.

Papa is committed to innovation. His development slate includes feature films, dramatic series, lifestyle documentaries and arts specials, all of which push boundaries with the unique spark that has come to be associated with the work of Tony Papa.
Michele Staples, Director of Film Program

Life is a journey filled with many points of destination, each new arrival an end and a beginning. Life has taught me many things and given me a wide variety of experiences, I seem to be covering a lot of ground this time around learning bit by bit, at times stumbling at others soaring. I am constantly in awe of the people I am so blessed to meet along this path, filled with gratitude and excitement as we come together, pieces of a puzzle we are designing together as we go.

Michelle has worked in the film industry at various times in her life, the first dating back to high school. She has been involved in film production for the past 7 years and has over the past 3 years focused her work on co-development and implementation of a variety of youth and community projects utilizing film as a tool to engage, encourage and empower youth to share their stories, look at social issues, learn about each other and share their voices with their schools, and communities. She operates a business which focuses on work with non profits and has a diverse background including organic farming, project development, transpersonal counseling, business and communications. She has developed an extensive youth outreach media program working in school and community based alternate programs and Aboriginal education. She developed a Social Change through Film and Media program focused on building awareness and understanding between First Nations and non-First Nations people and coordinates the Annual Youth FX Festival as the Youth Director for the Cowichan Aboriginal Film Festival.

She also co-facilitates Social Justice and Leadership workshops, rites of passage, teaches dance, performs wedding ceremonies, writes and is working on her first Social Change inspired documentary film project.
Natania Rogers

I am a creator of many forms, dancer, artist, musician, and healer. I have spent years in curiosity of human nature and how we relate to this sacred Earth. I am very passionate about the co-creation and invitation this planet has gifted us with. It is a true treasure to be here during this time and to share it with youthful energy. I love travel and culture and seeing the uniqueness of spirit each person has to offer. Have completed a 3 year Integrative Energy Healing course and a Sacred Birthing Doula program, hoping to blend the two mediums to assist mothers and babies to have the most gentle births. Have done lots of volunteering with children and youth, one of my favorite experiences was at La Cambalache a kids circus camp in the jungles of Guatemala, we taught dances, drumming, and art. Its such a treat to be a special part of someone's life and I believe rites of passage is an important initiation for the youth of this time, to connect them back to the sacred ways of walking on this Earth. I am excited to share my joy and heart with this team!
Maryna Bundyuk

I am Maryna (or I am a.k.a. by my moniker - Brij), I am 28 years old and I pride myself on integrity, honesty, uniqueness, vivacious creativity and my intention to create with benefit to all those involved with my work.

Born in Ukraine, I spent my youth hopping the Himalayan Mountains and traveling through Asia and Europe in search for beauty and self discovery. I attended university, volunteered and enjoyed working in the event industry creating and producing grand events for world's leading companies and corporations. Currently I find myself running my own web design business, I found a perfect synergy for my outgoing, friendly personality, highly cultivated sense of aesthetics, love of coding, and maddening need for perfect order in all things.

I admire creativity, connectedness, individuality and purity in all forms. I learn from children and animals, fervently loyal and generous to a fault.

Kasia Wilk

Hello Teen Journey Community!

I am thrilled to be a part of Teen Journey again and am looking forward to being a co-creator and witness to the powerful transformation and development this experience brings forth in all who are involved.

I know that sometimes the years of transition into adulthood can be a confusing time for youth. My journey during this time certainly had elements of uncertainty, doubt, and fear. Teen Journey provides today's youth with the guidance, support, and inspiration they need to navigate their transformative journeys' with insight, awareness, and responsibility. To be a part of this process is a blessing, and I am happy to share in the Teen Journey community.

I am passionate about forming partnerships and working cooperatively in community with one another, where everyone contributes their unique gifts and insights to manifest positive outcomes and solutions.

Kasia is a deeply committed change agent who has worked in Kenya, Africa with young people and orphans, leading fundraising initiatives, building capacities of individuals, communities, and organizations. Kasia's interest in social development and psychology have echoed throughout her past professional work as a behavioral therapist, researcher, and advisor. She currently assists people with Developmental Disabilities as a Quality Analyst and Support Worker with WJS Canada, coordinating social services and providing life skills to clients with disabilities.
She has completed an M.Sc in Consciousness & Transpersonal Psychology, and is completing her Psy.D in Counseling Psychology later this year. She is therefore transitioning to live in Manchester, England, where she will be studying and furthering her commitment to be in service - where her principle source of inspiration and dedication remains.
Terri Munroe

"I honor the place in you where Spirit lives.
I honor the place in you which is
of Love, of Truth, of Light, of Peace;
when you are in that place in you,
and I am in that place in me,
then we are Truly One.
Namaste."
David Rezmer

David is the youngest and one of the longest standing staff members of Teen Journey. His wisdom and maturity has made him a relied upon voice to consult with as a youth representative when establishing camp programing and procedure. A natural leader because he cares so much for people, some of his main passions are BMX biking, Skiing and Drumming.