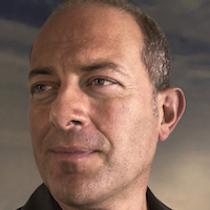 Freddy Silva
Since 2014, Freddy Silva has been leading journeys to Mexico, Guatemala, Peru and Egypt for Sacred Earth Journeys. Check out our website for all our upcoming journeys!
Freddy Silva is a bestselling author and a leading researcher of ancient civilizations, restricted history, sacred sites and their interaction with consciousness. He has published eight books in six languages, and produced fourteen documentaries.

Described by one CEO as "perhaps the best metaphysical speaker in the world right now," for two decades he has been an international keynote speaker, and makes regular appearances on Gaia TV, History Channel, BBC, and international radio shows such as Coast To Coast.

He is also an art photographer, and leads sold out tours to sacred sites in Mexico, Guatemala, Egypt, Peru, Portugal and Bolivia with Sacred Earth Journeys.

Books
Scotland's Hidden Sacred Past
The Missing Lands: Uncovering Earth's Pre-flood Civilization
The Lost Art of Resurrection: Initiation, Secret Chambers, and the Quest for the Otherworld
The Divine Blueprint: Temples, Power Places and the Global Plan to Shape the Human Soul
First Templar Nation: How Eleven Knights Created a New Country and a Refuge for the Grail
Chartres Cathedral: The Missing or Heretic Guide
Secrets In The Fields: The Science and Mysticism of Crop Circles
What I Learned From A Dog
Freddy Silva has led journeys to Britain, France, Malta, Peru, Portugal, Yucatan and Egypt. If you are interested in creating a custom tour with Freddy, please contact us for a quote!