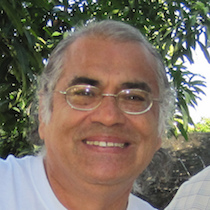 Miguel Angel Vergara
Since 2004, Miguel Angel has been leading journeys to Mexico and Guatemala for Sacred Earth Journeys. Our upcoming journey is Maya Temples of Transformation with Freddy Silva & Miguel Angel Vergara, to Yucatan, Mexico, November 4-12, 2021
Miguel Angel Vergara Calleros studied for 17 years with Mayan elder, Don Vincente Martin, who was a wisdom keeper, professional teacher, and artist. Miguel Angel is also a master in his own right, known as Master Nazul, and teaches seminars in Mexico and abroad on Mayan shamanism, astronomy, philosophy, calendar, glyphs & symbols, medicine, cosmovision, traditions and prayers, ceremonies and healing.
Miguel Angel shows us how to connect with the masters of light who are still at the sacred sites waiting to teach and guide us now, as in ancient times. He conducts tours to these Mayan sites so that people can experience first hand the powerful activating energies of those areas. His knowledge and experience makes the journey come alive as you begin to understand how the messages were imprinted, what the glyphs mean, what uses the buildings had, and how ceremonies were conducted.
Miguel Angel has been studying, teaching, and living the Maya wisdom for over 30 years. He teaches in a heart-centered style that connects rapidly and profoundly with his audience. Those who experience him realize they are in the presence of a master and are being given an extraordinary gift.
He enjoys collaborating with other teachers and is always interested in learning more. He is a joy to work with and is generous with both his knowledge and his time.
Miguel Angel Vergara is the author of several books on the Maya including two on Chichen Itza, one on the Maya Goddesses and the role of women in the ancient Maya culture, and a recent book entitled The Sacred Knowledge of the Maya.
Since 2004, Miguel Angel Vergara has been leading journeys to Mexico and Guatemala for Sacred Earth Journeys. If you are interested in creating a custom tour with Miguel Angel, please contact us for a quote!