Pilgrimage has long been a topic explored by writers from around the world, from historians to novelists and from poets to travel writers. These writers all explored the figure of the pilgrim, providing insight into the art of pilgrimage and what it means to travel.
We've put together a list of 10 books are a great example of this. Despite being from radically different genres, they all discuss pilgrimage in one way or another and will spark your desire to embark on your own sacred journey.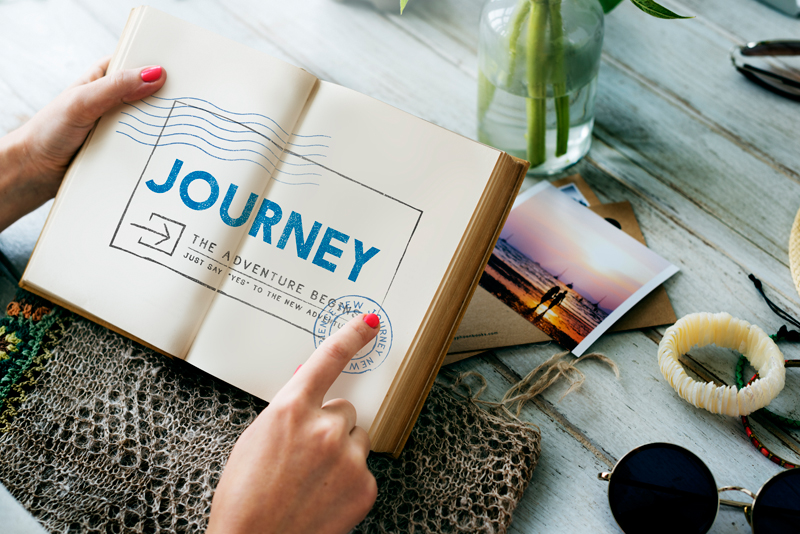 10. On the Road
Jack Kerouac's classic coming-of-age novel is truly an ode to the young pilgrim. The novel, which was first published in 1957, follows the adventures of Dean Moriarty and Sal Paradise, two young men who crash with artists and poets as they make their way through America on a shoe-string budget.
Funny at times, dark at others, this classic novel is a must-read for anyone who wants to an insight into the mind and soul of a generation of artists and poets. It's one of those books that inspires anyone who reads it (but especially younger readers) to start experiencing the world with an open heart and an open mind.
9. Sacred Travels: 275 Places to Find Joy, Seek Solace, and Learn to Live More Fully
Self-help author and sustainable living blogger Meera Lester provides a guide to, as the title suggests, 275 sacred spots around the globe. It is organized into ten chapters by emotion or value – Chapter 1: Love, Compassion, Devotion; Chapter 2: Health, Healing, Wholeness, and so on.
The book neatly summarizes the sacred importance of each place, suggests an activity or meditation a pilgrim can perform when visiting and shares a "deeper look" fact about the site. A good book to dip into and discover places far and very near that are worth seeking out on a future sacred adventure.
Another book in a similar vein: National Geographic's Sacred Places of a Lifetime: 500 of the World's Most Peaceful and Powerful Destinations.
8. The Journey of Ibn Fattouma
This 1983 novel written by Egyptian Nobel Prize-winning author Nagib Mahfouz, describes the incredible journey of a man who leaves his hometown in search of the perfect city. While he travels from his corrupt home-town towards the Gebel, the perfect land, Qindil Muhammad al-Inadi (also known as Ibn Fattouma), begins to see the world with new eyes.
Happiness, violence, beauty, lust, and war guide his way towards Gebel, and as the Qindil's journey continues, the reader can't stop but ask if perfection lies at the end destination, or is found within the imperfection of the road.
7. The Spiritual Quest And the Way of Yoga: The Goal, The Journey and The Milestones
In this book, Swami Adiswarananda takes us on an inner spiritual journey that is, in terms of yoga, not a choice but rather "a vital necessity for our total well-being".
"The spiritual quest, from the point of view of yoga, is an inward journey – a journey through the layers of our mind, through the wilderness of temptations, desires, and delusions. The journey has its peaks and valleys, hopes and despairs. […] Yoga is raising the blaze of Self-awareness".
A must for anyone interested in Yoga and the journey within.
6.  Eat, Pray, Love: One Woman's Search for Everything Across Italy, India, and Indonesia
After going through a rough divorce, 31-year-old Elizabeth Gilbert decides to leave her comfortable life behind and embark on a journey of self discovery. As she falls in love with the places she sees, she starts to reconnect with herself, relearning what it means to be happy.
While this book has become popular and even has inspired a movie, it is sometimes criticised as shallow. However, Eat, Prey, Love is still worth recommending as it has been loved by many.
This 2006 memoir takes readers on a fantastic journey of self-discovery, and inspires women to step out of their comfort zone and find themselves.
5. Shamanic Voices: A Survey of Visionary Narratives
Originally published in 1979, this book by Joan Halifax allows shamans to share their own authentic voice and tell us about themselves and the work they do.
The anthropologist, and now American Zen Buddhist Roshi, Joan Halifax, collected the words of shamans – either from living people or "hard-to-get primary sources" to create a work that explores the universe of the shaman from his initiation to his transformation, the medicine he uses and the dreaming state he enters.
These "technicians of the sacred and masters of ecstasy" are "familiar with cosmic as well as physical geography; the ways of plants, animals, and the elements are known to them". With this excellent book, that's still very much relevant today, their ways become more tangible and even more intriguing to us.
4. Walden
First published in 1954, Walden is a classic book by American writer Henry David Thoreau that explores his time living in a cabin in the wilderness of Massachusetts. The book is an ode to the simple life, as well as a declaration of independence, a travelogue about a voyage of spiritual discovery, and a survivalist manual for self-reliance in nature.
Walden is an exquisite example of true nature of pilgrimage, which states that every journey is as much about finding yourself as it is about exploring a new place.
3. Hidden Journey: A Spiritual Awakening
Andrew Harvey is an an accomplished religious scholar and author, whose books have been on the New York Times bestseller list.
In this brilliant book, published originally in 1991, Andrew recounts his own journey of spiritual awakening, which began when he was 25 and decided to abandon a brilliant career at Oxford to return to his native India. A rationalist atheist, he raised every possible argument against the existence of another reality and watched each dissolve in the face of extraordinary mystical experiences. This book is the story of his spiritual transformation.
2. On Looking: Eleven walks with expert eyes
In this 2013 book, American author Alexandra Horowitz starts with the premise that most of us go through our lives unaware of the beauty that surrounds us on a daily basis. To counteract this, she decided to explore her New York neighbourhood accompanied by 11 different experts. On each walk, she sees her neighbourhood through the eyes of the eleven experts, which range from geologists to typographists to her two-year old, and begins to see the beauty that surrounds her.
This masterpiece explores the concept of the every-day pilgrimage, urging readers to become explorers in their own neighbourhoods, and giving them the tools necessary to see the world through new eyes.
1. The Art of Pilgrimage: The Seeker's Guide to Making Travel Sacred
Author Phil Cousineau is a regular tour leader for Sacred Earth Journeys and his "long conversations" and daily discussions on travel, spirituality, and culture continually inspire all who journey with him. Those same insights and wisdom are ever-present in this work, described by Deepak Chopra as "a classic".
"I am convinced that pilgrimage is still a bona finde spirit-renewing ritual. But I also believe in pilgrimage as a powerful metaphor for any journey with the purpose of finding something that matters deeply to the traveler. With a deepening of focus, keen preparation, attention to the path below our feet, and respect for the destination at hand, it is possible to transform even the most ordinary journey into a sacred journey, a pilgrimage."~ Phil Cousineau, from The Art of Pilgrimage
A new edition with a forward by Huston Smith was released in 2012. Read more here.
Join Author Phil Cousineau in Paris
Become truly immersed in Parisian culture reserve your spot our 2018 journey: Passion for Paris with Phil Cousineau: An 8-Day Adventure in the City of Light and Lights with Special Guest Host Mort Rosenblum. This is an incredible opportunity to visit Paris with 2 prolific authors whose combined knowledge of the City of Lights is astonishing. The thoughtfully designed itinerary takes in all the above destinations and more! Not to be missed!