Peru is a must for any spiritual traveller. Here we share a few Peru secrets to help you have an even more satisfying travel experience when you visit Peru and Peru sacred sites. Be sure to add them to your Peru travel itinerary!
1. The energy at Machu Picchu is truly powerful (well known among these Peru secrets)
Our first and most important of our Peru secrets: Machu Picchu is a highlight of any trip to Peru and with very good reason. It's a must when setting out to discover Peru. And our pilgrimage offering isn't one of your average Machu Picchu Peru tours… More on that below.
This 15th century Inca site, majestically perched above the Sacred Valley, affords any traveller mesmerizing views and a powerful connection with the past. It was, and remains today, an important sacred site, so it is wise to allow yourself time to absorb the spiritual energy you will undoubtedly feel when you visit Machu Picchu.
Take your time to wander the ancient Temples, feel the dry stone walls, feel the energy of the Temple of the Moon, simply be…
2. The energy at Lake Titicaca is equally powerful!
Here's another of our very important Peru secrets; many of our travellers comment on their surprise at how their visit to Lake Titicaca captivated them.
As breathtaking as Machu Picchu is, we often forget that there are many more natural and man-made ancient sites in Peru that can move us profoundly – Lake Titicaca is most definitely one of those natural phenomena. Just as enchanting as the Lake itself are the "islands" made of totora reeds that float upon it – home to the Uros people, a pre-Inca peoples who, according to legend, existed before the sun when the earth was cold and dark.
As one of our participants said of his stay on Amanti Island, "Standing on top of Amantani Island was awesome – body was light & agile, mind was clear, view was amazing – really was on top of the world." Don't miss out on a trip to Lake Titicaca and the Uros Islands while you're in Peru!
3. Peruvian textiles are spiritual, cultured, exquisite (and very practical)
Rasheena Taub, in a blog post for "Clothandkind", describes her visit to the village of Chinchero where she was lucky enough to witness women from the Ayni Ayllu cooperative making "mantas" (the long weaved fabric used for carrying babies and other items on their backs) entirely by hand. Taub reminds us that "during Incan times, textiles commemorated personal milestones and peaceful offerings while representing basic beliefs and values of their makers." The cultural and spiritual history of weaving is still very much alive in Peru today, and artisan weavers can be found throughout the country. I used a "manta" with both my children when they were babies and toddlers and can happily attest to their usefulness as well as the strong bond it encourages between mother and baby.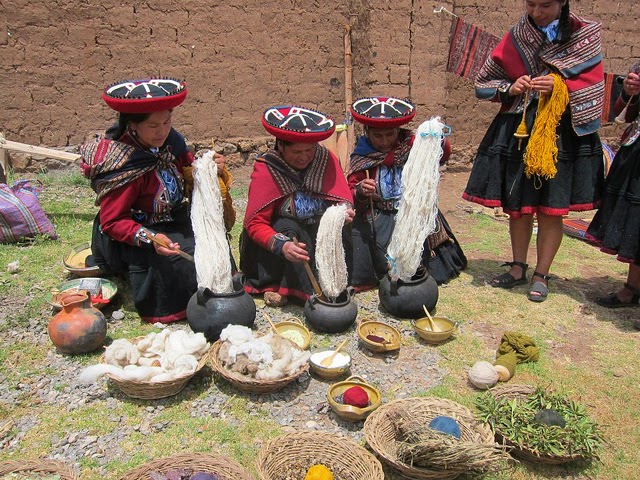 There are lots of other traditional textiles for purchase in Chinchero and other towns as you visit Peru too so be ready to fall in love with this ancient art that is easy on the planet (100% natural dyes) and have some money set aside for buying gifts for yourself and others back home.
Here at Sacred Earth Journeys, the Ayni Ayllu Weaving Cooperative is particularly close to our hearts as it is run by our Tour Leader Puma's mother. The purpose of the initiative is to preserve the ancient Andean traditions of weaving arts while inspiring women and children to manifest their inner light through the practice of weaving.
4. A reverence for Pachamama is lived on a daily basis
According to Inca legends and mythology, Pachamama is the goddess of fertility who watches over planting and the harvest.
For Peruvians today, a respect for Pachamama equals a respect for our "earth mother", a reverence for the goodness in our planet and a reminder that we have an important role to play in keeping balance and harmony on earth. Peruvians honour Pachamama is many ways, from sharing the first drops of water with her before drinking themselves to Despacho ceremonies, and passing down wisdom and spiritual traditions from one generation to the next.
When you visit Peru, you will have a more satisfying journey if you can take the time to understand the importance of Pachamama – ask your guide questions about the significance of the Earth Mother, participate in a Despacho or other sacred ceremony, and make sure your impact on the country is as light as possible (take re-useable drinking bottles, cutlery, etc.). Above all, schedule some time to simply stop and enjoy being at one with nature and your surroundings, keeping your heart and mind open to all possibilities.
5. Peruvian food is delicious … and healthy
In 2011 Katy McLaughlin, writing in The Wall Street Journal, called Peruvian food "the next big thing" describing in delicious detail the ceviche and unique way of using acid and spices, while Mark Adams in a piece for National Geographic lists the "Top 10 Things to Eat in Peru" – Ceviche quite understandably takes the top spot while Aji de Gallina, a rich stew made with the mild but flavourful aji pepper comes in at number 5.
If these 2 dishes alone don't get your mouth watering, there are ample others to try, all of which you'll want to recreate at home! Make sure you take a good notebook to jot down any recipes you're lucky enough to be given, or simply describe the tastes, smells and colours in your journal to instantly transport yourself back to your favourite dish during those long winter days.
6. Books will only take you so far…
I love spending hours reading guide books and maps before I travel anywhere, and there's certainly a wealth of information out there about Peru. However, books and the internet will only take you so far, and this is where a good guide comes in.
I strongly recommend travelling with a guide or Tour Leader as you explore this fascinating country. A good guide will be able to instantly tell you the cultural or spiritual significance of any site (even without wifi access!!).
But he'll do more than that – he'll share stories, ceremonies and wisdom directly with you; he'll take you to little-known sites that have powerful energy or strong historical significance. He'll also help you on your own inner journey, subtly guiding you where you need to be.
7. "There is life before Peru, and life after Peru"
We've heard many of our participants recite this, and anyone who has visited this majestic land will tell you it's absolutely true: Your life will never be quite the same after your visiting these Peru secrets
Whether you came to Peru with a specific question in mind or were simply curious to learn more about the country and yourself, you will walk away with a profound connection to this sacred land that holds an infinite amount of wisdom and to your own true self as you continue on your life's journey.
If you'd like to know more about Peru secrets and Sacred Earth Journeys you can visit our website.
This year's journey will take you to Machu Picchu, Lake Titicaca, Chincero, and many more sites and places. On this journey, you have the opportuntiy to discover the many Peru secrets and experience healing with Wachuma. Wachuma San Pedro (also known as San Pedro) is a sacred cactus native to the Andean mountains of Peru, Bolivia, and Ecuador.
It will be led by Puma Quispe Singona, an experienced guide, Andean medicine man, wisdom keeper and epicure! You'll be in very good hands!
~ Kim Bridgett