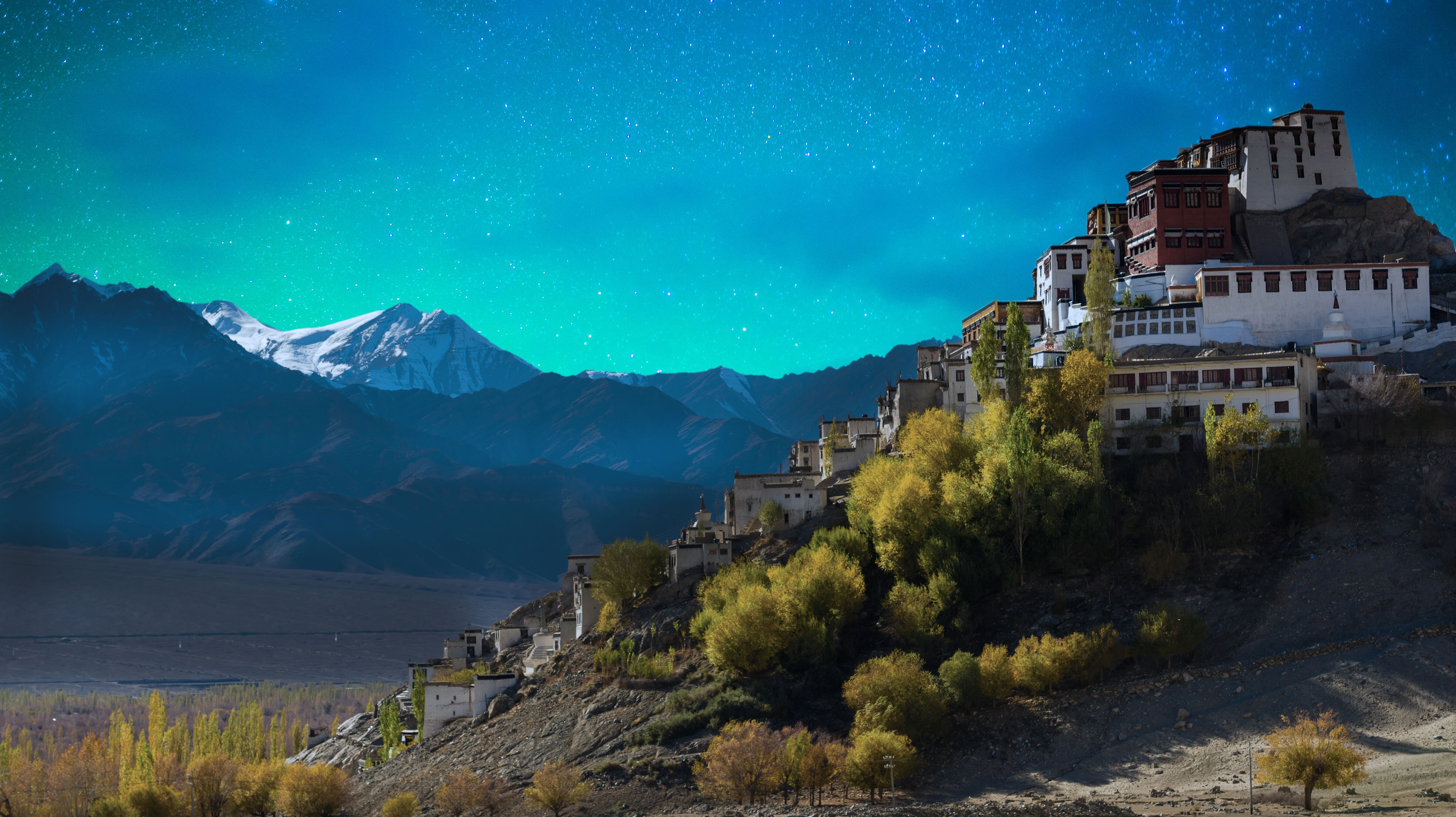 Our journey to Ladakh is filled with sacred ceremonies, spiritual sites, and heart-opening experiences and connections. Our spiritual teachers Andrew Harvey and special guest His Eminence Thuksey Rinpoche lead pilgrims to some of India's lesser-known sacred places in the breathtaking surroundings of the Himalayas, to deepen their connection to universal love.
We are looking forward to our adventure into these sacred lands in June 2023 for our Journey to Ladakh including Hemis Festival with Andrew Harvey, because we believe it will be an experience of a lifetime, into the heart of Buddhism and its practice of service to all. To prepare for this journey, we wanted to share some of the reasons we believe that this pilgrimage will help participants to renew their love, devotion and spiritual exploration so that they return home with a deeper sense of connection and wholeness.
A Two-Day Private Way of the Bodhisattva Retreat
One of the highlights of this tour is the honour of sitting in a two-day private retreat with His Eminence Thuksey Rinpoche, one of the Tibetan Buddhist world's most compassionate thinkers, at Hemis Monastery. This retreat is the perfect way to see 'Love in Action' and how we can use the compassion and love we feel to be of service to others.
This retreat offers pilgrims the chance to visit some of the projects set up by His Eminence Thuksey Rinpoche such as a school for some of the poorest children in the region as well as a dog shelter to help care for the stray dogs within the area. This experience helps to open our hearts and to have compassion for those less fortunate than us.
Sit In Sacred Practices and Meditations With Our Spiritual Teachers
One of the best ways to deepen your devotion and spiritual practice is to sit in sacred rituals and meditations with guides. During our journey to Ladakh, our spiritual leaders guide practitioners in several deep and profound practices at different sacred sites.
While visiting a Tibetan refugee community on the edge of Leh, we are honoured to sit in a ceremony with Lhamo, a female Shaman-Oracle, who embodies the energy of Sri Devi, Palden Lhamo, a female deity and the protector deity of the Dalai Lama. This is an especially profound experience that leads to deeper devotion and spiritual connection.
Another notable spiritual practice happens in the Lamayuru monastery, where we will meet a Yogi whose life is dedicated to spiritual devotion and who will perform a Chod ritual for us and sing the sacred songs of the Yogi Milarepa, at the edge of the village overlooking the monastery.
Visit Profoundly Sacred Sites on Our Journey to Ladakh
This journey is designed to bring participants to some of the world's best, but least visited sacred sites, with one of the highlights being the Dalai Lama's private summer residence in Leh. Due to the region still reflecting Tibetan life before the Chinese invaded, this is one of the Dalai Lama's favourite places to come for rest, reflection and contemplation. We will have the opportunity to tour this residence and experience the energies of universal compassion throughout and especially while in the presence of the statue of Buddha in His Holiness's private temple.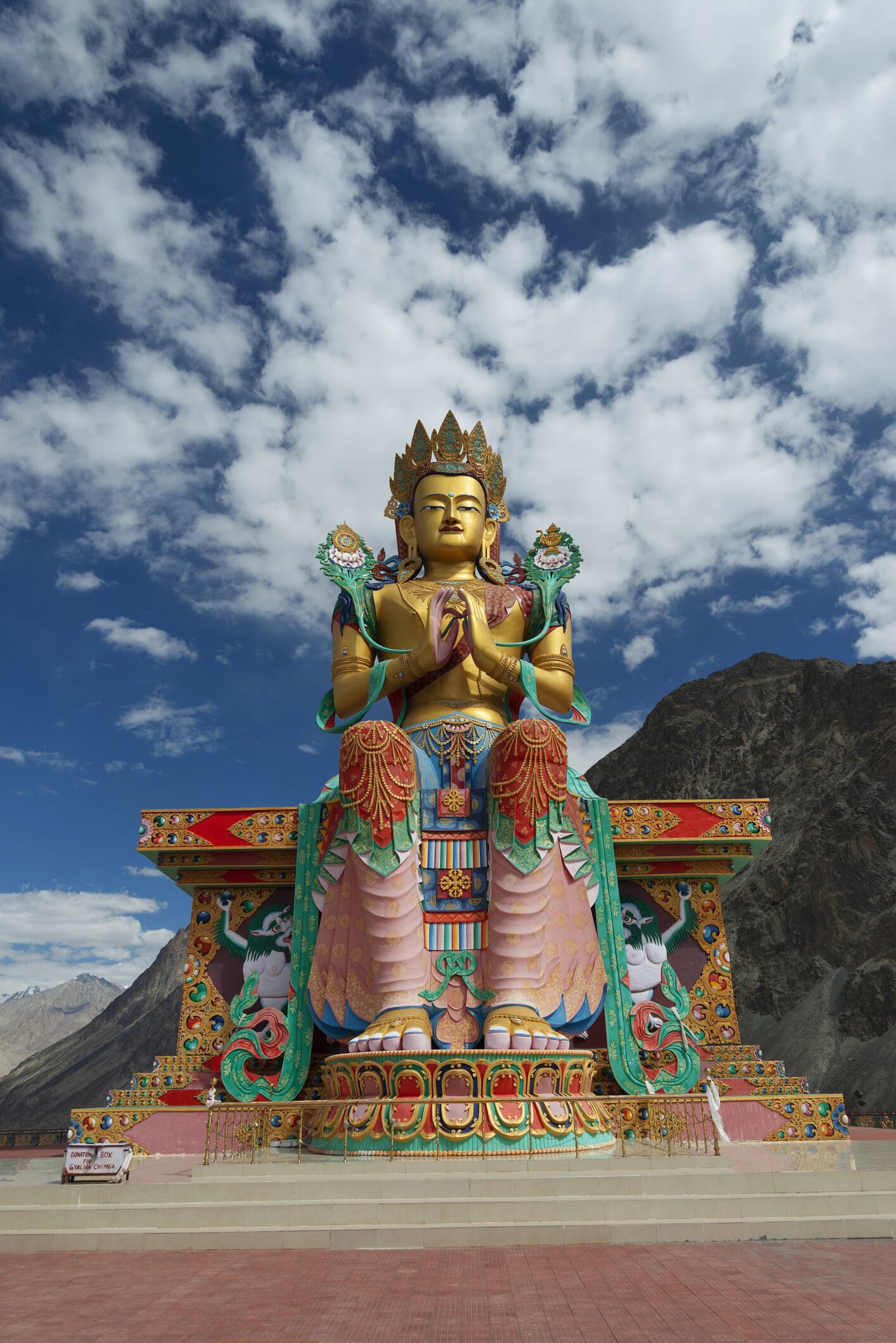 We visit many sacred sites on our journey, all of which offer insights and a chance to connect with our inner love and deepen our spiritual devotion. A particularly notable experience is our time at the statue of Jampa Maitreya Buddha (Buddha of the future), which stands over 100-feet tall on a hilltop just below the Diskit monastery. The statue, which was consecrated by His Holiness the 14th Dalai Lama in 2020, promotes world peace and reminds us to be compassionate and loving with others in the world.
Our journey to Ladakh takes us to some of the world's most breathtaking areas of natural beauty. At the beginning of our journey, we experience one of the world's most scenic flights as we make our way from Delhi to Ladakh flying over the Indus Valley to the northern tip of the Himalayas. Ladakh is nestled between two of the highest mountain ranges on the "roof of the world," the Karakoram and the grand Himalayan chain. While staying in this peaceful region, we will have the opportunity to embrace and sit in awe at the surrounding nature and allow it to open up our hearts and feel the love that emanates from our natural world.
The Breathtaking Hemis Festival
One of the highlights of our journey is experiencing the Hemis festival celebrated annually on the tenth day of the Tse-Chu in the Tibetan calendar. The festival includes monks wearing long, colourful costumes and elaborate masks performing Cham Dances to the music of drums, cymbals and wind instruments; a visual portrayal of the triumph of good over evil.
This festival allows us to embrace the celebrations and rituals of the local monks and ponder on the idea of good and evil and how, by deepening our connection to our hearts and through this, spiritual connection, we are able to help the good in this world prevail over the evil and create a loving, peaceful and harmonious world for everyone.
Ending Our Journey With Gratitude
At the end of our journey, we will sit together as a group of pilgrims and express our gratitude for all that we have seen, felt and learned along this powerful sacred journey. It's an opportunity to share from our hearts and to connect with our fellow travellers in a meaningful way.
Discussing our experiences in a heart-centred way with others helps to deepen these teachings, so that they may be taken back to our everyday lives to enrich them with spiritual devotion and deep love. Through this practice, we can then help to spread this message to those around us and to help create a world of love and compassion.