Here in Canada we've had quite the start to 2014! Where I live in Newfoundland, we've experienced the effects of the Polar Vortex that hit much of North America and, as well as the frigid temperatures and heavy snowfall, we've had rolling blackouts, fierce blizzards, full-day power outages and a delayed start to the school year, with many businesses still closed as they continue to repair the winter damage.  We turned the outages into opportunities for family board games by flashlight as best we could, and I'll admit that reading by candlelight was a nice respite from the to-do list.
But, the weather has certainly taken its toll and I've definitely noticed the stress of the rolling blackouts in my body, the muscle twinges and the sugar cravings, and, with my routine disrupted, I've also neglected my yoga practice.
One of my intentions for 2014 is to increase my fitness levels for my physical and mental health and, for me, that starts with yoga. I notice that when I practice yoga and meditation several times a week, I feel more able to cope with everyday stress, have increased energy and am just a nicer person! My yoga mat is a home to come back to when I need to figure things out but don't know where to start, a place where my body remembers how to be strong, and a place where I can re-connect with my core values and instinctively know those areas in my life that are out of balance.  
If, like me, you're looking to improve your fitness levels this year or are keen to start or continue a yoga practice, Sacred Earth Journeys has journeys and retreats planned for 2014 to help you with your quest. Our tour and retreat leaders are experts in their fields and can offer you so much whether you are completely new to yoga and just want to give it a go or you are an experienced yoga teacher looking to take your practice to the next level. Our tours and retreats are very holistic in nature so you are getting the chance to spend time with inspiring leaders and experience new cultures, sites, foods, spiritual traditions, fauna, and so much more.
Here is a snapshot of the retreats and journeys that will interest you if you're looking for a getaway this year that involves yoga and meditation.
Sacred Journey to India with Jeffrey Armstrong:
A 2-week Immersion into Vedic Wisdom and Yoga Philosophy,
March 1 – 15, 2014
Jeffrey Armstrong is a truly inspiring and inspirational leader. A 40-year practitioner of yoga, he is also an author, philosopher, accomplished public speaker, and scholar of the Vedas. With Sandi Graham he co-founded VASA – the Vedic Academy of Sciences & Arts. Journeying to India with Jeffrey and Sandi will most certainly be a life-enhancing voyage. Highlights of this incredible journey include temple visits (not those on the usual tourist trails!), participation in the International Yoga Festival, a cycle rickshaw ride around the 300-year-old Chandni Chowk market, a sunset tongo horse and carriage ride to the magnificient Taj Mahal, an elephant ride to the Amber Fort in Jaipur, and the list goes on! Read more about this must-do journey on our website.
Epic Kauai Goddess Retreat with Dr. Alexina Mehta
An Adventure of Healing and Self-Discovery in Breathtaking Hawaii,
April 18 – 25, 2014
A springtime retreat on divine Kauai, Hawaii; daily yoga and meditation practice and healing words of wisdom from the fabulous Dr. Alexina Mehta, ND; the most delicious food prepared by chef and holistic nutritionist Celina Archambault; visits to the magnificent Hanakapi'ai Falls, Kauai's Hindu Monastery, the Kadavul Hindu Temple, opportunities for kayaking, snorkelling, hiking, and so much more. This retreat will be truly unforgettable.
In the words of a past participant:
"To say my Kauai retreat was life changing sounds melodramatic but I don't know how else to explain the impact that the sacred island and the sacred journey had on me. I'm so grateful for the wise, gentle, powerful and respectful guidance of Alexina… many years my junior but many life-times my elder, both at the same time." ~Judy Dickens, Aurora, Ontario
Read full details of this retreat on our website.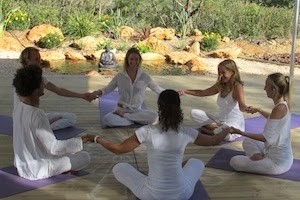 Yoga Isla Ibiza with Karen Heaps
A Magical Holiday & Yoga Retreat on the Mediterranean Island of Ibiza, Spain, September 13 – 20, 2014
If you're starting to plan a little further ahead, consider our September retreat to Ibiza, Spain. Enjoy 7 days of yoga next to the healing Mediterranean, guided walks to some of Ibiza's hidden gems, beaches, sunshine, opportunities for spa visits and excursions – in sum, a perfect yoga retreat.  Read full details on our website.
Yoga Retreats in the Baja Mexico & Tofino BC!
Join Milagro Retreats on an amazing yoga retreat in Baja Mexico or Tofino BC!,
Year Round
Sacred Earth Journeys also takes bookings for Milagro Retreats run by Shani Cranston and her team, a Vancouver Island based wellness company, offering all-inclusive surf and yoga retreat and yoga travel packages, interactive seasonal cooking classes and vegetarian and living food catering on Vancouver Island, BC and in Baja, Mexico. Read full details on our website.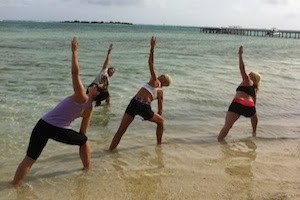 Bali Bliss Retreat with Michele Labelle
Full details of this transformational yoga retreat, offering a unique and enchanting experience of Bali, will be up on our website soon. Read about the 2013 retreat here.
Whatever your intentions for 2014, I wish you a healthful, joyful and adventurous year, full of travel and sacred moments.
~ Kim Bridget