It's nearing the end of summer. The days are getting shorter and there's a crispness to the early mornings that reminds us Fall is just around the corner. As much as I love autumn with its intense colours and opportunities for peaceful walks in the ever-changing forest, I know that by November I'm yearning for the warm sun again.
November is the perfect month for a yoga getaway, and even better if it's a retreat where the sun's rays will re-energize your soul, and the beauty of the natural surroundings will help you ease into a week of calm, focused, fun practice.
What will these Fall retreats offer you?
Bali Bliss Retreat with Michele Labelle
This 10-day yoga and meditation retreat offers you an opportunity to indulge in daily hatha yoga and meditation practices led by the highly experienced and empowering Michele Labelle. Michele is also available for Private Sessions: a Heart Integration of any issue you would like to address and transform and be left with Ease in your heart and Peace of mind. You will also explore the beautiful island of Bali from the beaches in the south and the bustling Ubud to the quiet northern part of the island.
Highlights of the retreat include:
    A bike ride through the magical rice paddy fields of Ubud
     Seeing a wonderful Jegog Musical Performance
     A cultural immersion visit to the local village of Pacut to experience and learn more about daily life in Bali
     A walk through an abundant forest of rambutans and visit to the 30-metre-high Les Waterfall
     A visit to the Brahma Vihara Arama Buddhist Monastery
     An exciting Snorkelling Excursion to Menjangan Island, which offers some of Bali's best snorkelling sites
    A visit to Ulun Danu Temple, an important Hindu and Buddhist water temple
     Travel with like-minded friends and knowledgeable and compassionate Retreat Leaders
For more information about this rejuvenating, culturally-rich retreat visit our website.
Practice, Breathe and Surf Costa Rica with Chris Duggan & Natalie Rousseau
Chris Duggan and Natalie Rousseau describe this 7-day retreat as "playful and fun while creating space for everyone to unwind from the daily grind and celebrate the beauty of nature through sunshine, surf, and joyful yoga classes." We think this sums the retreat up perfectly! There will be opportunities for relaxation, daily vinyasa yoga practices, adventure – surfing, zip lining, horseback riding – wildlife watching, spa treatments, and much more.
Highlights of the retreat include:
     Accommodation at the exquisite Star Mountain Jungle Eco Lodge, set within 90 hectares of private reserve land that's positively teaming with wildlife
     A choice of 3 adventure activities: surf/SUP lesson and board rental, zip lining canopy tour, 4WD tour or horseback riding
     Optional activities including Eco Spa and Naturopath doctor, massage therapy, beauty treatments for hair, skin and nails, wood fired sauna, nature hikes, helicopter tour, fishing and/or snorkelling boat tour, Butterfly Sanctuary and much more
     Delicious meals made with local fresh ingredients and much love
For more information about this fun, restorative retreat visit our website.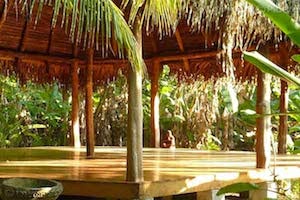 ~ Kim Bridgett & Sacred Earth Journeys