Few places in the world can offer the richness of tropical forests, the vastness of deserts, and the luxury of soft sandy beaches with the serenity of Sri Lanka. It offers a depth of beauty and spirituality like no other. The destination has had it's trying times, but Sri Lanka has remained steadfast as a beacon of calm determination and a haven for self-reflection. Andrew Harvey will lead us through some of Sri Lanka's most sacred sites and natural beauty so that we too can draw from the peaceful strength that flows from this oasis.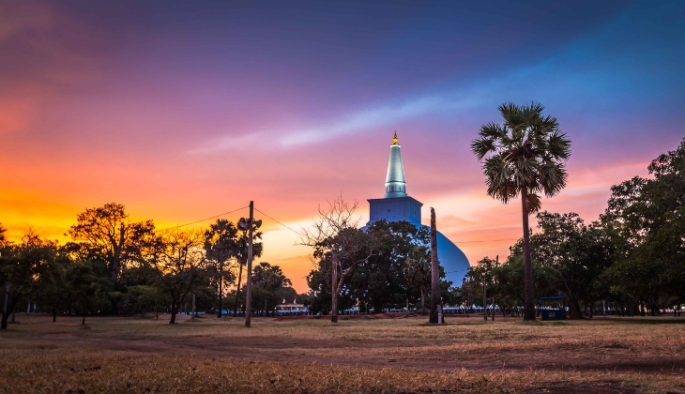 We will begin with a Blessing Ceremony once we arrive in Colombo. This will be our opportunity to release the thoughts of our day-to-day lives, center our energy, and focus on our blessings before we begin exploring. There is so much to see in Sri Lanka and we have designed this journey to visit as many of these beautiful places as we can. Here are some of the highlights you can experience on this journey.
We will visit one of the three sacred stupas, Ruwanweli Seya, where many ancient Buddhist relics have been preserved. The greatness of the history preserved here can be felt just by laying eyes on the exquisite structure.
The oldest known tree planted by a human is in the Mahamewna Gardens. This sacred tree is called Sri Maha Bodhi. We will take our time to soak up this site and reflect on the importance of how the Buddhists have preserved and treasured this tree for over 2000 years.
After, we will visit one of Sri Lanka's most sacred Buddhist pilgrimage cities, Abayagiriya, where we will see some of the most extensive ruins in the world. It is a breathtaking experience to take in the history and spiritual importance in this ancient Theravada Buddhist monastic centre.
The tour will also visit the site of Sri Lanka's first Buddhist monastery, Mihintale, in the city of Sigiriya. Many monks have visited this ancient site to pray in these temples and complete a pilgrimage of 1840 steps to the summit. This monastery is considered the cradle of Buddhism in Sri Lanka.
While in Sigiriya we will take in another of the World Heritage sites, Gal Viharaya, which holds the famous carvings of Buddha in four positions. We will climb Sigiriya Rock and take in the view from the top of the jungle before we visit the Aluvihare rock temple which still holds the complete Tripitaka library. We could spend our entire journey here soaking up all the knowledge that it has to offer.
To appreciate the true Buddhist experience we will have the honour of spending a day in the life of a monk in our "Sil" Observance Program. This unique opportunity will take place at the Paramitta Buddhist temple where we will join in guided meditation, sutra chanting, and learn from Buddhist teachings through prayer and talks.
After, we will have two days to enjoy the beauty of the picturesque beach in Koggala and reflect on the experiences and teachings we have received during our journey. The Long Beach Resort is a luxurious destination that will offer the comforts of a tropical vacation in a tranquil atmosphere before the end of your journey.
During our journey of Sri Lanka, we will share with you the depths of the ancient Buddhist tradition and wisdom, it will be a journey of sacred sites and nature's beauty. Lonely Planet has captured the unexpected highlights of Sri Lanka which includes the forests, beaches, food, train travel, and much more. If you'd like to learn more about what Sri Lanka has to offer you can read that article here.
Our tour leader, Andrew Harvey notes that Sri Lanka was an important part of his spiritual beginnings. He first visited Sri Lanka as an atheist at the age of 23 which sparked his quest for knowledge of all that Buddhism has to offer. Andrew Harvey is a renowned author, spiritual activist, and one of our most sought after tour leaders. You can learn more about this life-changing journey with Andrew Harvey, being offered March 1-12, 2020 in Sri Lanka, by watching this video.
Please visit our Journey page, The Sacred Heart of Sri Lanka and Andrew Harvey, to review the complete itinerary. We hope you can join us on this journey of inspiration and spiritual awakening.